Questions & Answers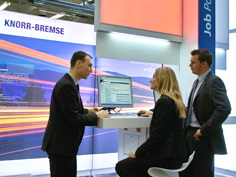 Question: If I send my CV, can I expect a reply?
Answer: All those interested will receive a reply, indicating any opportunities that may exist.
Question: If no opportunities exist at the time, will you keep my CV for future selection processes?
Answer: Yes, provided your profile corresponds to jobs usually sought by the company.
Question: Can I expect my application to be dealt with confidentially?
Answer: At Knorr-Bremse we scrupulously observe regulations relating to Personal Data Protection, as outlined in the Data Protection and Privacy Policy.
Question: Can I subsequently change the information sent or ask for my details to be withdrawn from your information system?
Answer: Yes, just send an email or letter to the Human Resources Management, indicating this change or cancellation of details.
Question: How are Selection Processes handled?
Answer: A company specialising in Selection Services often participates, working in coordination with our Human Resources Department and the Area searching for personnel. Once the final candidate has been chosen, an offer is made and the other candidates are thanked for their participation. The final candidates are kept in our database for future opportunities.